Klarna
Klarna is a Swedish company that provides online payment solutions. Once a payment is finalized, Klarna pays the merchant immediately.
Klarna allows the user to pay immediately or in installments, simply by providing an e-mail address and a billing address, without a password. The merchant receives the full amount immediately, even in the case of payment in installments. In particular, the services offered are the following:
Here are the services offered:
Pay Now (I prefer to pay immediately in a safe way)

Pay Later (I prefer to receive the order before paying it)

Financing (I prefer to pay over time)
The merchant receives the full amount immediately, even in the case of payment in installments.
In which countries is it available?
Depending on the country of residence, customers can access different forms of the three services offered by Klarna: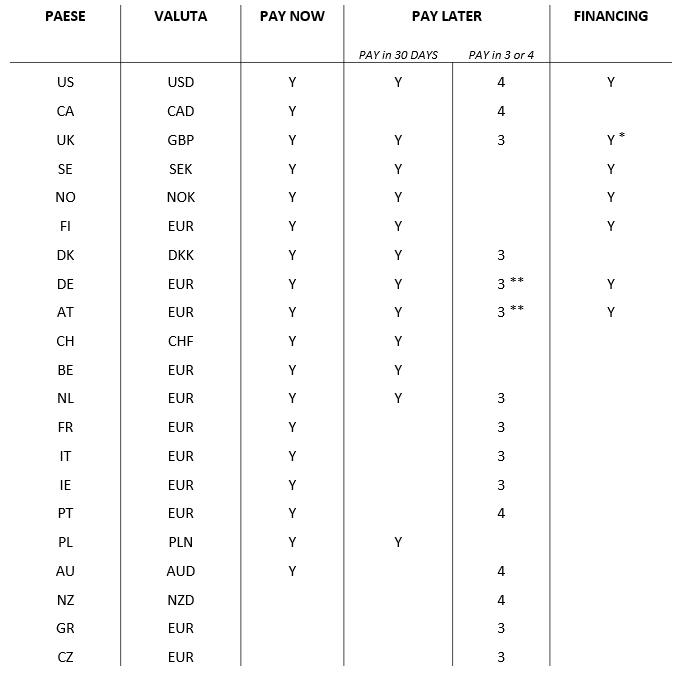 *The merchants need the Credit Broker Licence (CBL).
**At the moment it is active only for a few selected merchants.
How does it work for users?
During the payment phase, the buyer must enter the telephone number and / or e-mail address connected to the account.
This way customers can enjoy an extremely fast shopping experience: the system, in fact, recognizes the user and it will not be necessary for them to enter other data.
How does it work for merchants?
In order to start accepting payments with Klarna it will be sufficient to accept the conditions that Axerve has reserved for its customers, by signing the contract that enables Axerve to operate as a Payment Facilitator.
Once the user experience requirements are also met, Klarna can be used together with other payment tools.
This form of collection allows you to process a payment within 28 days, unlike the typical 25 days of credit cards.
The technical integration is very simple and similar to any other payment method that can be enabled on the Axerve Ecommerce Solution platform: it is possible to use the paymentType tag and the value to be entered is KLARNA.
To learn more about the use of the paymentType tag, you can access How to direct a customer to a payment method.
Tramite la Dashboard Axerve, è possibile verificare lo status di avanzamento nella fase di integrazione, controllare i movimenti dell'account Klarna, scaricare la reportistica, disporre storni e movimentazioni delle transazioni già autorizzate, modificare le informazioni di contatto del Customer Care da segnalare ai buyer.
Axerve mette a disposizione, per i clienti che lo richiedono, anche la possibilità di essere abilitati al Klarna Merchant Portal ed utilizzare il servizio di On-Site Messaging. Questo servizio permetterà di gestire e customizzare i messaggi nel sito del Merchant riguardanti le opzioni di pagamento messe a disposizione da Klarna. Per maggiori informazioni consultare il sito dedicato di Klarna
.
Fields to include in the call to Klarna
The parameters required by the service for the request are those that identify:
The following tables show the parameters that can be sent (the required fields are in bold):
Billing Address