Paysafecard
Paysafecard is a prepaid payment method. The customer buys a prepaid card with a 16 number PIN in a physical shop; they can later use their card on associated websites. Paysafecard is very common in EU countries.
The maximum payable amount by a customer, for Paysafecard, is:
How does it work for the user?
The customer buys their Paysafecard from a physical shop with prepaid credit (10 €, 25 €, etc).

The customer enters the 16 digit PIN. They also have to check and agree to the Terms of Paysafecard before completing the payment.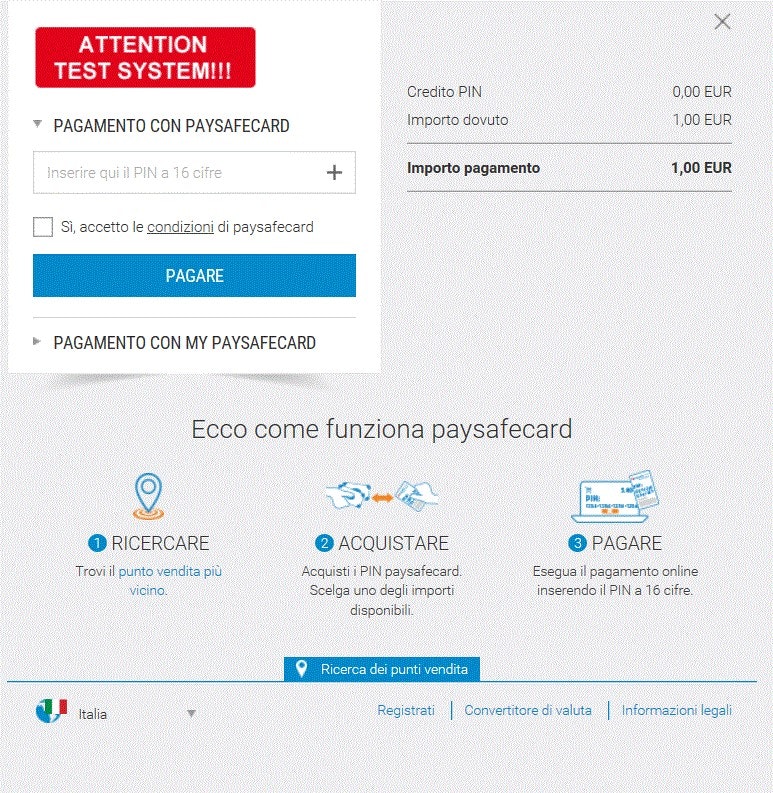 How do I enable and use Paysafecard on Axerve Ecommerce Solutions?
Contact Axerve customer support to setup Paysafecard and Axerve Ecommerce Solutions. This process requires 4/5 business days.
If you want to use the paymentType tag for this method, the value to use is S2PPSC. See the section How to redirect the customer to a payment method to learn how to use the paymentType tag.
An example call is available in the API: Paysafecard Example call
.
Paysafecard and Test Environment
To test Paysafecard, you can use these test codes:
0000000003603571

0000000003603572

0000000003603573

0000000003603574

0000000003603570